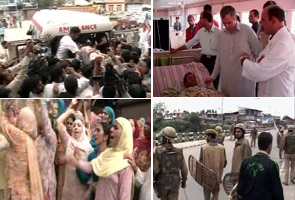 It's more than a week now but the Kashmir valley continues to be on the edge. And on Thursday, two more people died in Kashmir - one succumbed to injuries in the hospital and the second died in firing at Pulwama, according to locals. Ten others were also injured in the firing.

The stone-pelting mobs clashed with security forces, protesting a death in police firing last night. Police used tear gas and lathicharge to disperse the crowd.

Protesters also allegedly attacked two police posts in Sopore and Srinagar and set fire to a state road transport corporation office in Baramulla. Curfew continues in all 10 districts of the Valley for the seventh consecutive day.

Chief Minister Omar Abdullah reached out to the victims of violence in the Valley. A beleaguered Omar, who has been accused of failing to control the turmoil in the state, visited the injured in the Sher-e-Kashmir hospital and also took stock of the availability of medicines in various hospitals and directed the health ministry to airlift medicines if required.


In another development, PDP leader Muzaffar Beg sent his resignation as an MLA to his party president. Baig complained that MLAs are not consulted on any issue, which makes the Kashmir Assembly meaningless.

Meanwhile, 38 young Members of Parliament have written to the youth of Jammu and Kashmir expressing empathy, pleading for restraint and endorsing the need for dialogue. Cutting across party lines, the MPs - including Priya Dutt, Dipendra Huda and Sandeep Dixit of the Congress, Akhilesh Yadav of the Samajwadi Party and Supriya Sule of the NCP - issued a signed statement condemning the violence.