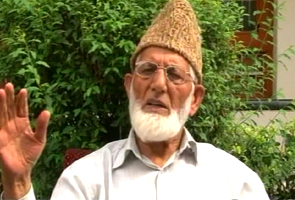 At a time when Kashmir has seen some of its worst violence in years, hardline separatist leader Syed Ali Shah Geelani has called for the people to stop violence and end attacks on police stations and public property. It's being seen as a possible breakthrough in the Valley.
Speaking to NDTV, Geelani says the Omar Abdullah government assured him he would have the freedom to practice his politics as long as it's peaceful. "Despite the promise, Omar government stopped my first march," he added.

"Islam has always preached non-violence. I have always advocated non-violent protests but Delhi never understood my politics. My statement on non-violent protests does not change basic stand," Geelani said.

The Hurriyat leader added that he wanted the troops to be pulled out of Kashmir. "There is no military solution to Kashmir. Delhi can't win Kashmir by force."

Yesterday, Geelani made an unusual appeal to people not to burn police stations, rail tracks and public property and said violence goes against the Kashmir cause.

Meanwhile, there were fresh protests in Srinagar today after the death of a man injured during firing last night. Police used tear gas and lathicharged the crowd.

Protest also continued in Srinagar and other parts of the Valley in the night. Two police posts and a CRPF guard post were attacked by a mob in Sopore.

All districts of Kashmir remained under curfew yesterday as additional paramilitary forces reached the Valley.

A total of 29 people have been killed in clashes across the Valley since Friday.