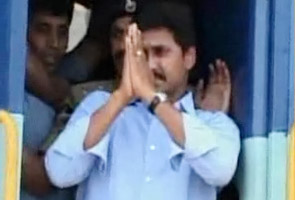 Despite a grand tour which defied his party's orders to stay put, Jagan Mohan Reddy has not been penalized by his party, the Congress. Instead, the Congress' approach to YSR Junior is passive-aggressive - those close to him are being censured.

Like Konda Surekha, who quit as the Minister for Women and Child Welfare last year, declaring that it was impossible to work with anyone other than Jaganmohan Reddy as Chief Minister. When Jagan's father, YSR, died in a helicopter crash last September, the party brought in K Rosaiah to replace him.

Surekha, who is a Congress MLA from Warangal, has been issued a show cause notice for describing Rosaiah's government as "awful" in a letter to Sonia Gandhi and other leaders last week.``I am saying openly that Jaganmohan Reddy has to be given the leadership. The party requires a powerful leader. He has the people's verdict," she says, defiantly.

Mass support is certainly what Jaganmohan set out to prove when he began his Odarpu Yatra late in May this year. He said he wanted to personally visit each family who said that his father's death, a member died from shock (there were close to 400 who made this claim).

The party said it was not required, especially after the tour in Telangana region ended in violence. But after a short break, Jaganmohan continued with this yatra. The road show was a pointed demonstration of strength, appeal, and whether or not the Congress likes it, a claim of the heir apparent.

Rosaiah handled the crisis mainly by staying out of it. He took his cues from the Congress leadership in Delhi, which played it safe, stating that Jagan's trip was a personal one, and therefore did not require the party's intervention. Jagan's camp, however, says that Rosaiah took the tour as a personal slight.

Ambati Rambabu, a former General Secretary of the party, has been suspended for his anti-Rosaiah remarks.``The Chief Minister is giving wrong information to the high command against Jagan. Jagan in fact, before starting the Odarpu yatra took the Chief Minister's blessings," he says.

In the face of what they perceive as constant undermining, Rosaiah's supporters are now returning the volleys. ``You say the rule in the state is very bad. Who are you to dictate terms to the High Command?'' asks P Shanker Rao, a Congress MLA and a self-declared Rosaiah supporter.

What the party is truly worried about, sources say, is that the Jagan camp, through its public criticism of Rosaiah, wants to provoke the central leadership in Delhi. The consequences of that could turn the fault-line into a very decisive crack.