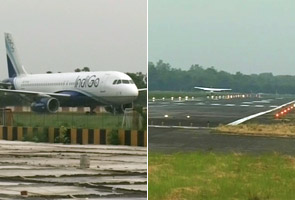 'Clear the entire length of the runway in fifteen days or shut it', this is the diktat for the Bihar government with regard to the Patna Airport.

This is an order served to the Bihar government by the Union Civil Aviation Ministry.

"Safety of the aircraft and passengers is the most important criteria. I have been informed by the DGCA about the present state. Many airlines have complained in the past that to land at Patna they have to keep 20 to 30 percent of their seats vacant. Keeping all this in mind we have asked the state government to intervene and make necessary changes," said Civil Aviation Minister, Praful Patel.

He also added that in case of non cooperation by the Bihar government, big aircraft would be barred from landing at the runway. "They must do this if in future they want to see Patna having an International airport," he concluded by saying so.


The Patna airstrip is about 6,400 feet in length which is acceptable by the international standards however, the problem lies in the strategic location of the runway. The runway is bound by trees of the zoological garden on one side and a railway line on the other. Hence, the usable length of the airstrip, at any given time, reduces to only about 5, 500 feet making the landing of any big aircraft a risky affair. The critical location of the runway is so that even an expansion can do no good to it.

Going back in the past, Patna airport has its own history of air mishaps. In the year 2000 an Alliance Air flight from Kolkata crashed near Patna Airport. The aircraft had overshot the runway and when it tried to turn around 360 degrees to re-land, it crashed killing 60 people.

Talks of shifting the airport on the outskirts of the city have been going on for a while now. The officials say, that the only option is to shift the airport to Bihta Air force Base which is35 kilometres from the city. The runway length is a safe 8,000 feet at that location.

This was proposed and also cleared by the state government last year. But until now, no work has started on the ground; neither has the paper work begun.

Is this why the Bihar government is maintaining a steady silence?