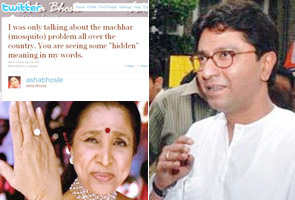 While Mumbai netas battle it out over who is responsible for the spurt in malaria cases in the city, legendary playback singer and prominent Mumbaikar Asha Bhosle, who is an avid tweeter, has tweeted her mind.
"Mumbai: Machhar war is in full swing", Asha said on the microblogging site. This was followed by, "'Machhar' Raj", which fetched some pointed queries from her followers. Asha was quick to clarify that she was not referring to MNS chief Raj Thackeray. "I was not referring to Raj Thackeray," she tweeted.

Raj Thackeray had made yet another controversial statement over the weekend, blaming "migrants" or "outsiders" in Mumbai for the malaria outbreak.

"Dengue and malaria are spreading fast in the city due to dirty illegal slums which are occupied by migrants only," he said, and added, "Migrants are attacking Mumbai and ruining it."

It was not surprising that Asha Bhosle's tweets, coming very soon after Thackeray's comments, had tweeple talking.

But Asha was at pains to explain, "I meant too many buzzing around & flying around...I was only talking about the machhar (mosquito) problem all over the country. You are seeing some hidden meaning in my words," she said. The noted singer also asked her fans not to create "bilawaja (unnecessary) controversies", or else she would have to stick to "namaste, dhanyavaad & thank you" on twitter.

Which would be a pity. Because unlike many other stars, the 77-year-old has some lively and often tongue-in-cheek comments to make on twitter. Like when she tweeted yesterday, "CWG has become DMG (Disaster Management Games)."

While on the mosquito trail, she added, "Controversies are created in persons mind. Words are harmless (as you have seen). It's how you perceive them that creates problems. Right?"

And she told another follower, "Kuch to log kahenge, logon ka kaam hai kehna..." Clearly, the legend shall not be wasting any sleep on this.

In March this year, the singer had snubbed Raj Thackeray by saying, "Hindustan belongs to all," when asked whether Mumbai was turning ugly with the exodus from outside. In the audience, sat Raj Thackeray.

"People are bound to flock to Mumbai as Hindustan belongs to all. Those who work hard here become prosperous. I also worked in my field with determination to earn success. I have sung in all Indian languages but I am a proud Maharashtrian," Asha Bhosle had said.