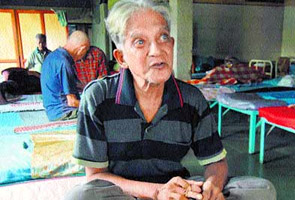 He had stepped out of home to go to the bank. Instead, he landed in a home for beggars, thanks to the unnecessary and extra concern shown by a policeman.

Colaba resident Robert D'souza (62), who is visually challenged, was picked up by a police constable in the first week of this month and, much against D'souza's wishes, taken to the Beggars' Home in Chembur.

The beggars' home is, as its name suggests, a charitable home that takes cares of mendicants.

"That morning, I was passing by Cusrow Baug in Colaba, to go Central Bank's Fort branch. I am blind and also have a wound," said D'souza.
"With a walking stick for support, I was requesting passers-by to help me to the bus stop when a sturdy hand grabbed me by the arm and dragged into a waiting vehicle."

D'souza said no questions were asked and before he knew it he was taken to the home for beggars. "How right is it on the part of the police to do such a thing?" he asks staring into nothingness.

This is the second such case of a man who is not a beggar but is being forced to live in a beggars' home.

D'souza, a bachelor, has since been moved out of the home for beggars and has now been shifted to a home for dying destitute persons at Tagore Nagar in Vikhroli.

"Life at the beggars' home was a nightmare. We were treated worse than prisoners and the food served was not meant for human beings," D'souza told MiD DAY.

"We were served half-cooked rice, a watery dal and boiled brinjal for lunch and dinner."

This was in sharp contrast to the daily diet regimen that this former employee of a multinational firm was used to in the comforts of his home.

"My daily diet comprised a chocolate-flavoured milk drink, sweet corn soup and bread."

D'souza is annoyed at the constable who mistook him for a beggar and took him to the charity home.

Life was always a bed of roses for D'souza till his mother, Mariya, passed away 17 years ago.

"She used to let out part of their 1,200-sq-ft apartment to paying guests, some of who included foreigners," said D'souza who lost his father when he was very young. He has no siblings.

After his mother's death, life was never the same. "I had developed cataract in both eyes.

During the surgery, I developed complications to the retina, which caused complete loss of vision," said D'souza. "Soon after losing my vision, I also lost my job."

As if the cruel blow that fate dealt him were not enough, there was more in store. D'souza said he was cheated of his home by people who took advantage of his blindness.

"I wanted to dispose of my property in 1993. I was offered Rs 14 lakh for the apartment but I thought I could get more," recalled D'souza.

I was introduced to one Kulbhushan Malik who agreed to pay Rs 20 lakh besides free treatment at a hospital in Chennai to help restore my vision."

D'souza said that Malik made him sign some documents, only to learn later that he had been taken for a ride. "Not only did I lose the house, the money was not paid either."

"I should have struck the first deal and taken Rs 14 lakh, but greed got the better of me," D'souza said, a tinge of regret in his voice.

After lodging a police complaint against Malik, D'souza said the fraudster was arrested. The legal matter is, however, pending in court.

Besides, a locker which his mother operated at Bank of India's Fountain branch still lies untouched.

"My mother had kept gold ornaments, some foreign currency and rent receipts in the locker," he recalled. "Surely, the valuables might run into a few lakhs of rupees."

Safely ensconced at the Home for Dying Destitutes at Vikhroli, D'souza is scared to venture out alone on the streets.

"I do not want to be hauled by another policeman and taken to the beggars' home again. I'm a free human being and want to be like that," he said.

"FROM D'souza's speech and demeanour, I figured he is not a beggar. So, I contacted the destitute home myself," said Superintendent of Beggars' Home Gautam Arwel.

About the quality of food served at the home, he said, "We cook from what the government supplies to us and cannot do anything about it."

"I have no clue about this particular incident. I will have to enquire before making any comment," said Assistant Commissioner of Police (Colaba division) Iqbal Shaikh.

About the criteria they look for when they pick up a 'beggar', Shaikh said, "We take action only against those who are spotted begging, in keeping with the Bombay Prevention of Begging Act 1959.

"D'souza seems to be from a decent family and he told me all about his past," said Brother Peter Paul (53), who heads the destitute home in Vikhroli and has worked closely with Mother Teresa's Home in Kolkata. "He is free to stay with us for as long as he wants to."

Presently the home for destitute people houses over 30 in the hospital. We provide them basic needs and once they die, we conduct the funeral, as per their religion.